The Wife
Coarse language and sexual references
A wife questions her life choices as she travels to Stockholm with her husband, where he is slated to receive the Nobel Prize for Literature.
Release Date:02/08/2018
Running Time:100 mins
DirectorBjörn Runge
Cast:Glenn Close, Christian Slater, Harry Lloyd, Max Irons
On Chesil Beach
A powerful, insightful drama about two people, both defined by their upbringing, bound by the social mores of another era centres on Florence & Edward, a young couple in their early twenties. Now on their honeymoon, they learn about the differences between them – their attitudes, temperaments & their drastically different backgrounds. Out on the beach on their fateful wedding day, one of them makes a major decision that will utterly change both of their lives forever.
ON SALE
Book Club
Diane is recently widowed after 40 years of marriage. Vivian enjoys her men with no strings attached. Sharon is still working through a decades-old divorce. Carol's marriage is in a slump after 35 years. Four lifelong friends' lives are turned upside down to hilarious ends when their book club tackles the infamous Fifty Shades of Grey. From discovering new romance to rekindling old flames, they inspire each other to make their next chapter the best chapter.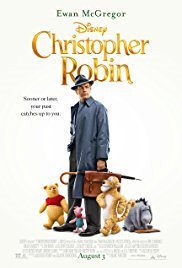 Christopher Robin
A working-class family man, Christopher Robin, encounters his childhood friend Winnie-the-Pooh, who helps him to rediscover the joys of life.